Murphy's Tyrepower is open and working to ensure our customer and staff safety during the COVID-19 pandemic. Find out more
About Us - Our History
The humble beginnings of Murphy's Tyrepower in Nowra NSW, from 1946 to today, still operated by the same family, is now into its third generation in David Murphy. National and NSW Director Peter Murphy was the second generation, preceded by his father Jack and mother Mavis.
Jack Murphy had originally worked for a re-treading and tyre retailing company locally, but went to Sydney for a short period, just as many young men of his generation did in those years; to chase the dollar as it were. He eventually returned to Nowra and decided to start his own tyre business.
So, In May 1946, Jack and Mavis Murphy set up business as Murphy's Tyre service in rented premises at 14 Kinghorn Street Nowra. Some years later they managed to buy the property, which was an old weatherboard shop that had at various times been a bank and a butcher shop.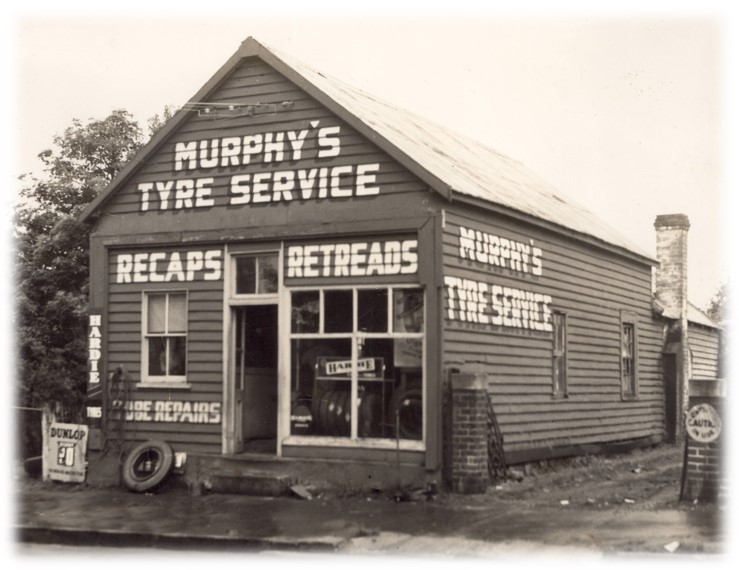 Jack and Mavis operated there until 1959, when the old building was demolished and a new brick building was constructed on the same site. This was purpose built and therefore much more suitable for a growing tyres service. No more need to jack trucks up at the kerb and fit tyres on the footpath !! Jack (or Walter John as he was christened) and Mavis, ran the business from the new building until 1970;
During those early post war years, building up the business was difficult, and very personal between customer and proprietor. Most people paid off their tyres on a weekly or fortnightly basis depending on their pay cycle. Many customers were share farmers or fishermen, and often the barter system was utilised. When Peter was growing up, there never seemed to be a lot of money, but the family always ate well; a few chooks here, a sugar bag of fish there, the odd duck or few ears of corn seemed to appear, even though the till did not rattle as often as it may have.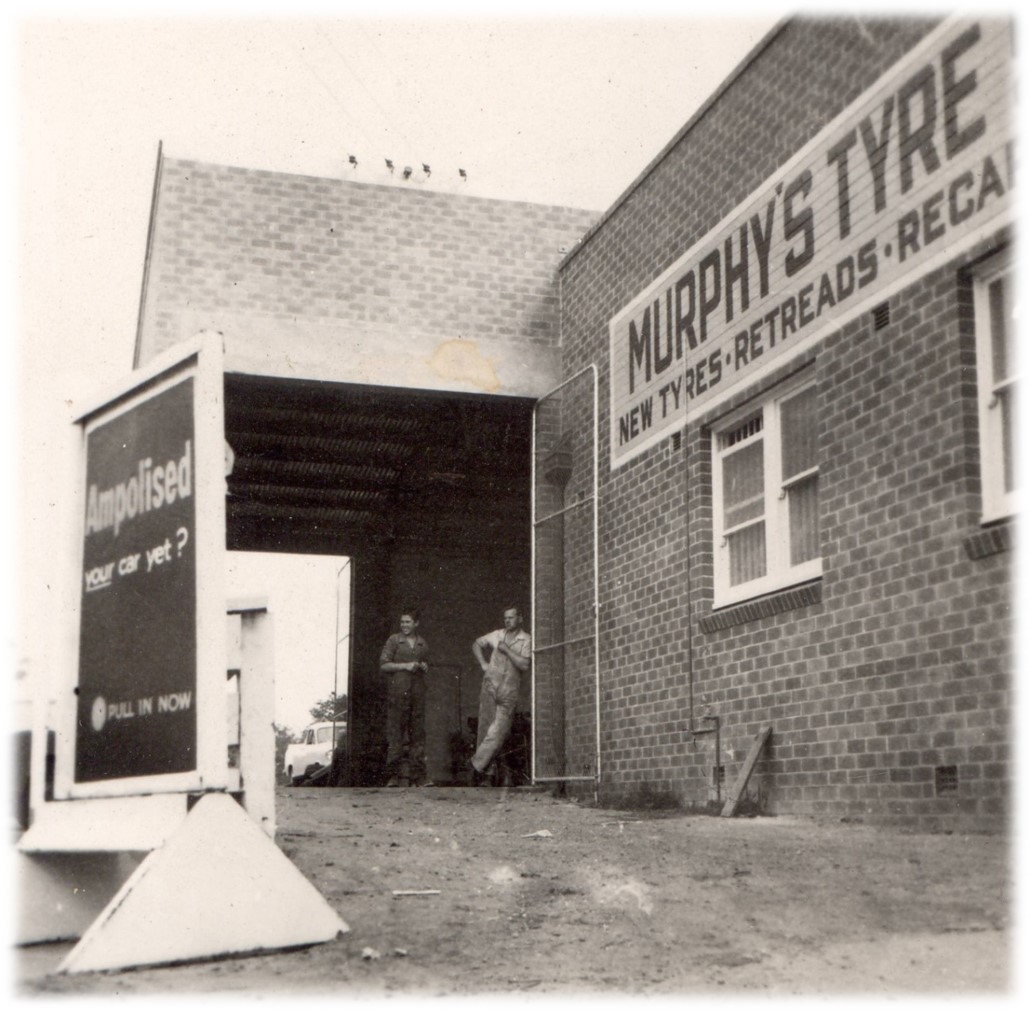 In May 1970, 24 years after he started the business, Jack Murphy died and some very big decisions had to be made by the family. At the time, Peter was working for Dunlop in Sydney, and his lovely wife Helene who by the way had hardly ever been south of the Harbour, was 6 months pregnant with their first child. After much discussion, it was decided that Peter and Helene would up root from their rented half house in West Ryde in the heart of Sydney and set up house in Nowra.
In 1972 the old site was sold to developers and Peter and Helene bought an old Renault / Peugeot dealership and moved the business around the corner to where they are today.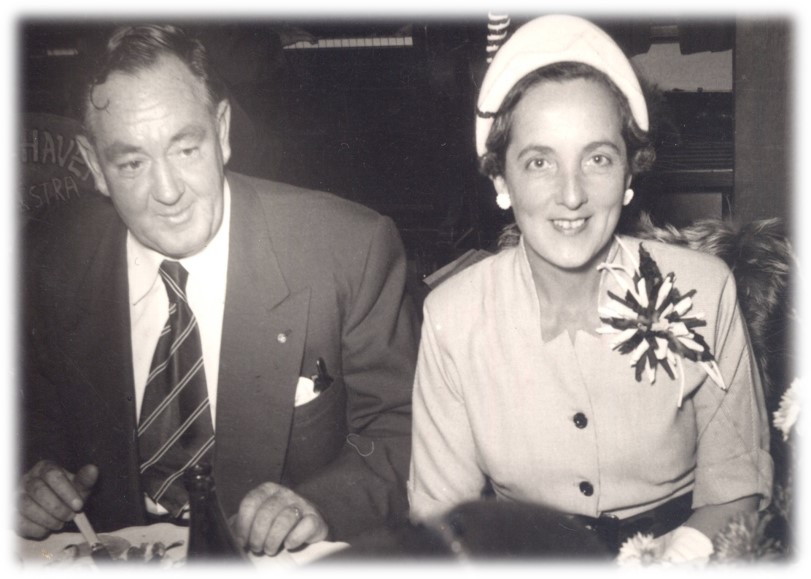 After they became a Tyrepower store, Peter and Helene attacked business with a new vigour, and though it was a long time before they saw a significant return on a lot of effort; over the years the change to Tyrepower turned Murphy's Tyre Service into the successful and well respected business that it is today.
When Peter and Helene joined Tyrepower, there was his Mum and Peter, an office girl (no computer), and a junior and senior tyre fitter. Since then there have variously been up to fourteen staff members. Murphy's Tyrepower these days now provides full mechanical servicing and repairs, as well as wheel alignments; these were never done in the early years of trading.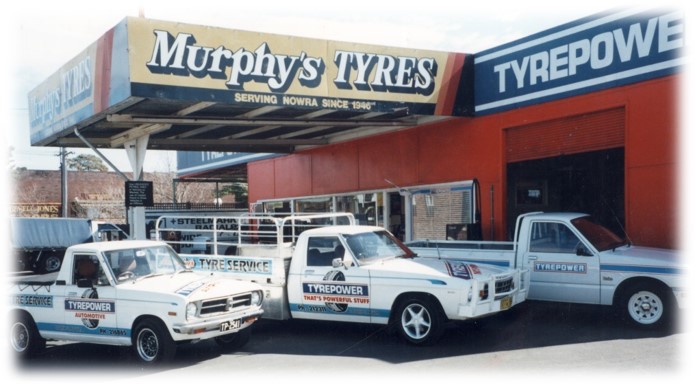 In November 2013, for the first time in its long history, Murphy's Tyrepower deservedly received the award of NSW Store of the Year.
In 2014, Peter and David continue to give great support to the National Preferred Supplier's products including the Kelly program.
Recently they have remodelled and completely renovated the showroom; a massive and expensive project for an area that previously had wooden floorboards and very outdated electrical's. The customer waiting area and amenities are now second to none among New South Wales Members. Plans are also at an advanced stage for a major upgrade to their mechanical workshop, and the storage areas have already been upgraded and extended.